Solar Powered Attic Fan 1010TR
Click to enlarge image(s)
The Next Generation in Solar Attic Fans
Uses No Electricity
Lowers Your Energy Costs
Cools Your Attic in the Summer
Removes Moisture in the Winter

Professional grade solar powered attic fan uses no electricity.

The Solar Powered Attic Fan 1010TR is designed to reduce heat build-up in your attic in the summer and remove harmful moisture in the winter. It's commercial grade, heavy duty construction provides up to 25% more power than other fans, providing better circulation and improved airflow in your attic space. One fan can ventilate up to 1350 square feet and lowers the attic temperature so your air conditioning won't have to run so long to cool your home. By running year-round, it can keep your attic space drier by removing moisture in the winter, reducing condensation and preventing the growth of harmful mold and mildew.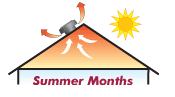 Cools in the Summer
During the summer, the Solar Powered Attic Fan vents the hot air out of your attic and keeps it closer to the temperature outside. Your air conditioner won't have to run so long to cool the inside of your home.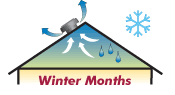 Prevents mold and mildew in the winter
In the winter, warm moist air rises from the inside of your home and collides with the cold underside of the roof. The Solar Powered Attic Fan provides the air circulation that prevents the moist air from condensing on the surface. Keeping your attic drier.

Features
Rugged 20 gauge Steel housing and flashing stands up to high winds, hail, rain and snow
High efficiency 14" fan blade and motor design for increased airflow and reduced noise
Commercial grade, hail resistant 10 Watt solar panel with unique tilt-swivel design
Temperature sensing switch included - shuts off motor on cold daysl
Ventilates up to 1250 sq/ft
Year-round benefits: Cools in the summer - removes harmful moisture in the winter
Qualifies for IRS Tax Credit - other
rebates may be available in your area.
| | |
| --- | --- |
| Shroud Cover | Vacuformed Qi-Mei 747S ABS with Ultraviolet Light inhibitors, 0.4mm thickness Resists fading, denting, rusting, and cracking |
| Flashing/Housing | 20 gauge steel |
| Rodent Screen | 1/4" stainless steel mesh screen secured with galvanized self-taping screws |
| Fan Blade | 14" 3-wing ultra quiet aluminum blades with pitch angle matched to dc motor/solar panel |
| Finish | Metal components are steel finished with zinc alloy G-90 thickness, hot dipped. Painted metal components are powder coated : pure polyester coating 3 - 5 mils thickness |
| Solar Panel | 10 Watt panel with high transmission tempered glass encapsulating 35 mono-crystalline solar cells Manufactured to ISO 9001 standards |
| Motor | 38 volt DC motor with external brushes |
| Wiring | 16 gauge black and red copper wire |
| Unit dimensions | 24" x 24" x 10.5", 23.65 lbs |
Shopping Basket
Note:
All prices in US Dollars
Featured Products